About Chrome Diagnostics:
Chrome Diagnostics is a U.S. company, with over 50 years of experience in the beverage alcohol and industrial ethanol industry. We supply bulk neutral ethanol, bulk spirits for distilling, private labeling, botanicals, etc. Our products are widely used in the beverage alcohol, food, pharmaceutical, cosmetics, and fragrance industries. With our in-depth knowledge and thorough understanding of the trade, we are in a prime position to offer relevant support and truly independent advice.
Chrome specializes in the worldwide supply of premium ethanol (ethyl alcohol), certified organic, USP Kosher, Fair-trade alcohol for beverage use, high-proof spirits in bulk, denatured and un-denatured ethanol for industrial applications in pharmaceuticals, Botanicals, perfumery, cosmetics, etc.
Through years of sourcing, visiting local distilleries and working with specialists, we have built up a reliable global network.  We offer over a dozen grades of premium ethanol based on various grains such as wheat, rye, barley, spelt, corn and fruits such as apples, grapes, citrus as well as potatoes, rice and other base ingredients.
Quality Control
Quality measurement, control and consistency are of extreme importance to our customers as it is to us. The product/service quality assurance is achieved through a centralized procurement process, thorough supplier vetting procedures and periodical internal/external appraisals.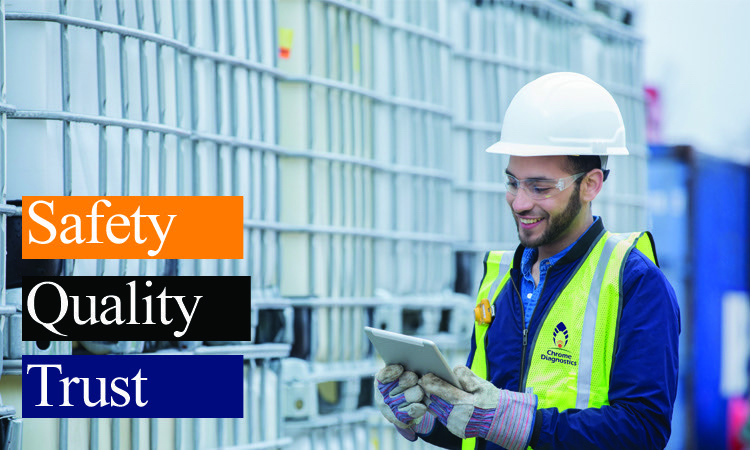 Experts in Logistics
Our channel partnerships reach warehouses globally. Located in the USA, Europe, UK, and Canada, our warehouses offer products in quarts, gallons, drums, totes, road tankers, ISO containers, Rail Car & Barge Access. Our qualified and experienced logistics team will offer you a full range of packaging and transport solutions. We have extensive expertise in vessel chartering and global container operations. CD organizes shipments between bonded warehouses around the globe and has expert knowledge about local and international shipping.